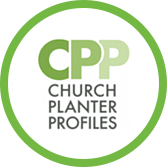 Assess your readiness and aptitude!
Church Planter Profiles was created to help potential church planters discern their aptitude and readiness for starting a new church quickly and easily in an online environment.  It is used by church planters, church planting churches, networks and denominations as well as for launch team assessments.
Once you have taken the full profile it will be helpful to assess your team. An effective and well-rounded launch team is critical in a successful church plant. Use CPP Teams to help build an effective launch team that represents all the needed gifts and strengths to successfully plant a church.
Some important things to look for in team members are visionary leadership, teaching, apostleship, shepherd, administration, activation and strong people skills. CPP is a tool that will help you effectively build your team.
CPP For Agencies and Networks
Proven tools for Denominations, Networks & Organizations.
We believe thousands of new churches need to be raised up out of our culture. Discovering and developing church planters who have the right combination of gifting, ability and experience to start new churches is a vital part of the process.

Church Planter Profiles was built with church planting churches, networks and denominations in mind. We provide proven, secure and customizable online tools to help you discover and develop church planting potential.
YOU TOOK THE ASSESSMENT, GOT YOUR RESULTS, NOW WHAT?