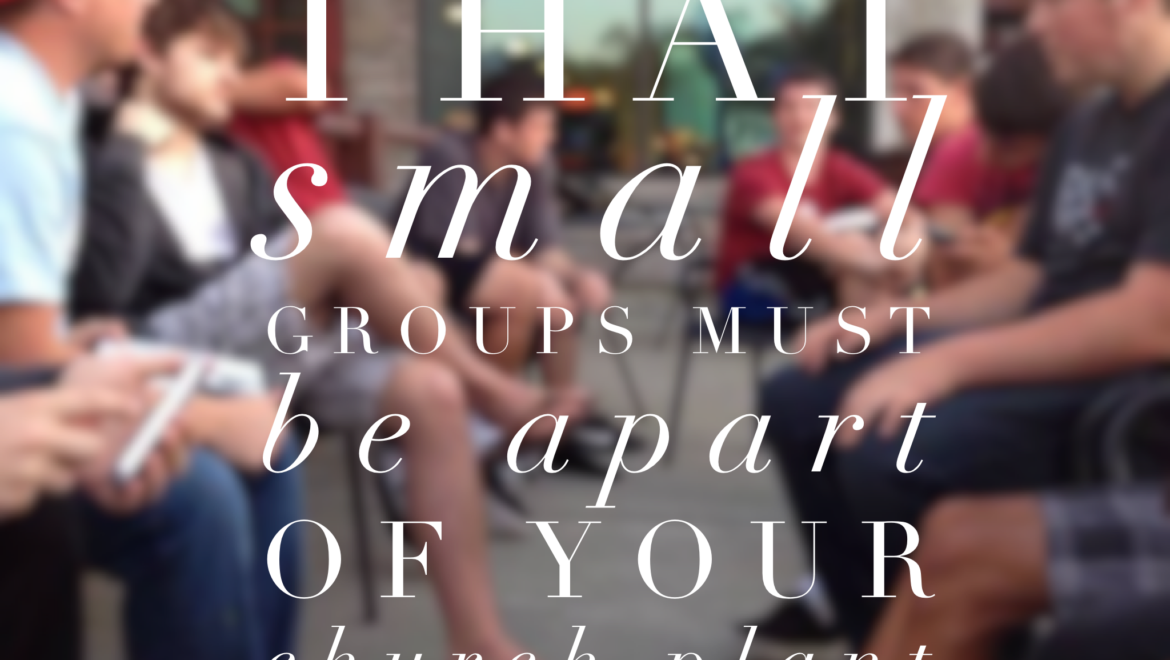 Almost everything you read on church planting includes a section on the importance of community. I happen to agree with that perspective, and can give you at least 4 reasons why this is true:
1. God designed us for relationships
When we look at the stories of creation found in Genesis, we discover that we were created in God's image. That doesn't mean that we're little gods, rather, it speaks of our nature, capabilities and the fact that we were designed to become like Him. Since God has existed in relationship as Father, Son, Holy Spirit since eternity past, we can say that God was never alone because He existed in three persons.
Read Genesis 1 and you'll see that after each day of creation, God declared that all He created was good. Then after the final day of creation, (Gen 1:31) we read that "God saw all that he had made, and it was very good." But in just eighteen verses, God declares that something is NOT good!
Then the LORD God said, "It is not good that the man should be alone; I will make him a helper fit for him." Genesis 2:18 (ESV)
Isolation is NOT good. God declared from the beginning that being alone is not His plan for our lives. His solution was companionship in a wife. Now I'm not writing this about marriage, but would challenge you to see the underlying timeless principle: God designed you and I to live in community, where we share our lives with one another, walk through the highs and lows of life together, and grow closer to our identity as children of God.
2. It's the Biblical model for the church
The book of Acts describes how the early church put into practice the Great Commission and Great Commandments and I think we can learn much from the faith, the mistakes, and the actions taken by the apostles as they planted churches and spread the gospel from Jerusalem to Rome. In the early days as the church was under Peter's leadership, we see a pattern of large gatherings and house gatherings:
Day after day, in the temple courts and from house to house, they never stopped teaching and proclaiming the good news that Jesus is the Christ. Acts 5:42
Later, as the Apostle Paul becomes the primary figure in the historical account, we read a similar statement of how he established churches everywhere he went:
You know that I have not hesitated to preach anything that would be helpful to you but have taught you publicly and from house to house. Acts 20:20
3. Life transformation happens best in community
While I believe that the public worship and preaching of the Word plays a significant role in the church, it's not where lives are impacted and changed the most! Before you start throwing stones, hear me out…
See to it, brothers, that none of you has a sinful, unbelieving heart that turns away from the living God. But encourage one another daily, as long as it is called Today, so that none of you may be hardened by sin's deceitfulness. Hebrews 3:12-13
Sin is deceptive and any one of us can be duped by it! This passage tells us that there is a responsibility to engage one another in a way that we can help each other keep out of the trap laid by sin. Once a gathering gets over about 8-12 people, you lose the personal connection and ability for transparency and accountability. Without taking time to share our stories and open up, we don't know what is going on in each other's lives and can't encourage each other from becoming "hardened by sin's deceitfulness."
A 2005 Fast Company article by Alan Deutschman describes studies conducted on heart patients that exposed the key role of community in changing your life. Both studies involved patients that were instructed to change their eating habits, exercise regimen and quit smoking. Dr. Edward Miller at Johns Hopkins says that study after study shows that even after bypass surgery, only about 10% actually heed the doctors' prescription for change (those are probably the Navy Seal kind of people!). Another study at UCSF included an additional factor: the 333 patients in their study also met twice weekly in support groups for one year. The result? Three years later, 77% were still on Dr. Ornish's diet, and had avoided the need for bypass surgery!
So what do those studies have to do with planting churches and small groups? I believe that what Dr. Ornish discovered in our physical health applies to our spiritual health as well! We can hear great teaching and "know" what we should be doing to grow closer to God and to become the person that God wants us to be, but without accountable community surrounding us, we've got about a 10% chance of staying on that path. Just take another look at Hebrews 3 and you'll realize that is what the author is telling us!
4. LIFE Groups create a relational environment for growth and ministry
This point is closely related to #3, but takes the focus beyond our transformation to engaging the world around us in their transformation. The author of Hebrews challenges us:
And let us consider how to stir up one another to love and good works, not neglecting to meet together, as is the habit of some, but encouraging one another, and all the more as you see the Day drawing near. Hebrews 10:24-25
I think this is referring more to the "house to house" gathering than the "temple courts" kind of gathering because of the emphasis on personal encouragement that flows between believers. When we gather together regularly, the goal becomes to stimulate our love and pursuit of the mission that God created us to fulfill.
So, by way of encouragement, let me implore you to launch your church plant from the start with the DNA of small groups. Build your core team as a small group, then as the Lord adds to your number, connect them into community in a way that will result in spiritual multiplication, spiritual growth, and kingdom impact in your neighborhood.