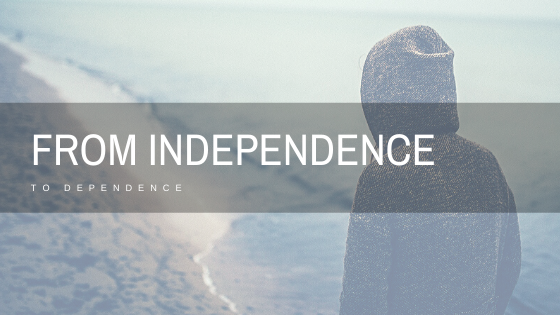 God's end goal for humanity is to restore a childlike, dependent relationship with himself. We can't forget that. Our call to planting was a call to a dependent relationship with our Father.
How do we grow in dependence as we plant churches?
First, embrace the process.
We learn a lot from the lives of the earliest leaders of the church. Their process is ours.
Peter appears to be a self-confident follower of Jesus through the gospels. He seems to know the plan, and he knows he's going to be a big part of it until…Jesus warns him that he's going to deny him.
Peter brushes it off, but in the end, his confidence in his commitment fails and he denies Jesus three times.
Peter was devastated by this. In desperation Peter wept, marking his deep regret.
At the end of the gospel of John, the resurrected Jesus comes to the broken Peter who is disoriented and done with himself.
As Jesus re-commissioned Peter to lead his church, he no longer had a self-confident commitment to Jesus because that had failed in a crucial moment. He'd been brought to an absolute desperate dependence on Jesus alone.
At the end of his days, Peter would write, "Humble yourselves, therefore, under God's mighty hand, that he may lift you up in due time. Cast all your anxiety on him because he cares for you." (1 Peter 5:6–7, NIV)
The process of denying Jesus, and then being restored, had produced a humility that stood under and relied on God's mighty hand, always. Peter was no longer self-confident, he was dependent—like a humble child.
Note the process though. Peter said, "Humble yourselves…" There's a partnership in this, there is a decision to stand under God. There's the intention of casting all our cares and believing He cares for us.
Embracing the process means we deny the lies that we are independent and have control of the world as we partner with God and moment by moment deciding to humbly live out of our identity as dependent children.
Second, wrestle until you lose.
In the book of Genesis, one of the most notoriously self-dependent characters in all of the Bible had an incredible encounter with God. Jacob had schemed his way through life but he eventually reached the end of himself and the angel of the Lord appeared to him.
Genesis 32 says the two of them wrestled through the night.
Jacob wanted something from God. What he wanted he couldn't get through his means, and so this wrestling time was Jacob grabbing hold of God and saying, "Help me, I'm humbled, I'm utterly dependent."
"When the man saw that he could not overpower him, he touched the socket of Jacob's hip so that his hip was wrenched as he wrestled with the man. Then the man said, "Let me go, for it is daybreak." But Jacob replied, "I will not let you go unless you bless me." (Genesis 32:25–26, NIV)
Jacob wrestled so desperately and intensively with God for a blessing that he prevailed.
But…in his prevailing he also lost something.
Jacob lost his old name.
"The man asked him, "What is your name?" "Jacob," he answered. Then the man said, "Your name will no longer be Jacob, but Israel because you have struggled with God and with humans and have overcome." (Genesis 32:26–28, NIV)
Names in the Bible are a big deal. They represent the life of the human that bears them. They carry a lot of freight. Jacob meant heal catcher, schemer, manipulator.
Jacob wrestled, he wanted help, he wanted a blessing, and in gaining it, he lost his old name. He lost his old identity and was given a new one. God renamed him Israel, which can roughly mean persevering or persisting.
His new name became the fountainhead of a people who were to persist in faith and obedience to YHWH as his chosen children.
Jacob left limping.
"The sun rose above him as he passed Peniel, and he was limping because of his hip." (Genesis 32:31, NIV)
That limp would serve as a constant reminder to Jacob, that blessing came through losing his old name and his old ways. His wrestling had led to the loss of his self-reliant walk. His new life, marked with a limp, and a new name, and a new dependance, would be utterly devoted to God.
We will wrestle with God and something will give way. We'll lose our self-dependence. It may leave us with a limp, but we'll gain a new identity and new way of life that becomes a fountainhead of legacy in those who come after us.
Finally, surrender to love.
Loss in the Kingdom of Jesus is a surrender to perfect love.
How do we know?
Look at Jesus' process of wrestling and loss to gain us.
He wrestled with his Father right before his horrific death. Sweating blood, He asked His Father to let the cup of the cross pass from him crying out, "Abba, Father, everything is possible for you. Take this cup from me. Yet not what I will, but what you will." Mark 14:36
He surrendered out of love for us. He wrestled and lost his life to gain his most cherished possession—us.
Saint Paul said, "…the Spirit you received brought about your adoption to sonship. And by him, we cry, "Abba, Father." (Romans 8:15, NIV)
Because Jesus wrestled and cried out Abba, Father and then surrendered and lost his life, we now are freely given the Spirit of life who cries out within us, Abba Father. Jesus' wrestling and loss result in our ultimate gain. That's the love we surrender to.
Embrace this process.
Wrestle until you lose.
Surrender to love.
~ Dan Braga