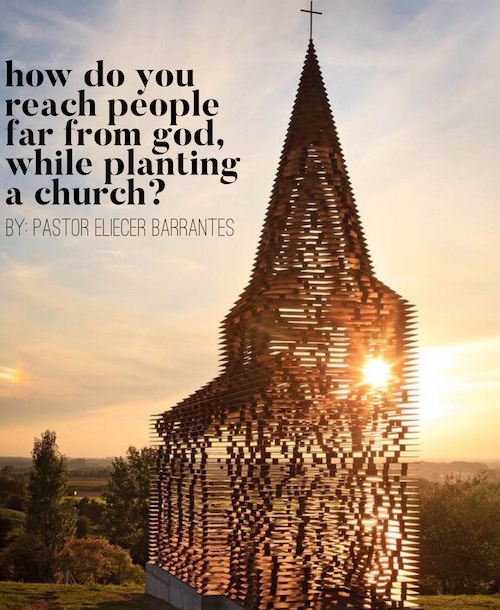 In the days that I was farthest from Him, God always provided channels of blessings, so I could see that He was by my side and would never leave me. God has always put channels of blessing for our cities and communities. To plant a church, you do not have to reinvent the wheel or stick to a popular method of contemporary churches. Instead, we must value people for who they are, God's creation, and be a channel of blessing for those who need it.
En los días que más alejado estaba de Dios. Dios siempre proveyó canales de bendición para que pudiera ver que el siempre seguía a mi lado y nunca me iba a dejar. Dios siempre ha puesto canales de bendición para nuestras ciudades y comunidades. Para plantar una iglesia no hay que reinventar la rueda o apegarse a un método popular de las iglesias contemporáneas. Hay que valorar a las personas como lo que son creación de Dios y ser canal de bendición para los que lo necesiten.
Valuing people and thinking how I would like to be seen if I were in the same position is very important. We can make a profile of the people we want to reach. We can do a study of the community. We can have all the financial resources that are necessary, but if the people you are trying to reach do not feel valued they will not have openness or vulnerability to let a stranger into their homes.
Valorar a las personas y pensar que desearía ver si yo estuviera en la misma posición es lo más importante. Podemos hacer un perfil de las personas que queramos alcanzar. Podremos hacer un estudio de la comunidad. Podemos tener todos los recursos financieros que sean necesarios, pero si las personas no se sienten valoradas no tendrán la apertura suficiente para dejar entrar a un extraño a sus hogares.
The key to planting a new church is found in Acts 2: 46-47:  46 And continuing daily with one accord in the temple, and breaking bread in the houses, they ate together with gladness and simplicity of heart, 47 praising God, and having favor with all the people. And the Lord added to the church every day those who were to be saved.
It does not matter with how many you start with:  one, two, or with five; the Scriptures say there was perseverance to be every day in the temple. The effort, the perseverance, the struggle to maintain unity among people must be present at all times during the planting of new churches. If even from the beginning, we start to be exclusivist with whom we want to let in the new church we will not have a congregation, but a social club.
La clave para la plantación de nuevas iglesias se encuentra en Hechos 2:46-47 46 Y perseverando unánimes cada día en el templo, y partiendo el pan en las casas, comían juntos con alegría y sencillez de corazón, 47 alabando a Dios, y teniendo favor con todo el pueblo. Y el Señor añadía cada día a la iglesia los que habían de ser salvos.
No importa con cuantos comiences con uno, con dos, con cinco la Palabra dice que había una perseverancia para estar cada día en el templo. El esfuerzo, la perseverancia, la lucha para mantener la unidad entre personas debe de estar presente en todo momento durante la plantación de nuevas iglesias. Si desde el principio ya se comienza a ser exclusivista con quien queremos dejar entrar en la nueva iglesia no tendremos una congregación sino un club social.
The book of Acts also mentions that what is experienced in the church was also experienced in the homes, thus showing a reflection of what was lived out in the community of faith. The words joy and simplicity of heart are the fruit of being able to maintain a united group. The joy of embracing, listening, speaking with my brothers and sisters in the faith has to make me see them at the same human level.
El libro de los Hechos también menciona que lo que se vivía en la iglesia se vivía en los hogares mostrando así un reflejo de lo que en la comunidad de fe se vivía. Las palabras alegría y sencillez de corazón son el fruto de poder mantener un grupo unido. La alegría de abrazar, escuchar, hablar con mis hermanos en la fe me tiene que hacer verlos al mismo nivel humano.
When what I mentioned earlier becomes a habit within the new community of faith, true worship of God will have its epicenter in homes and in the church itself. The community that surrounds the church or the home of those who have a passion for souls will benefit from a community of faith wanting to reach those most distant from God. By expressing joy and having a simplicity of heart, the true worshipers will worship the Father even in the streets of our community.

Cuando eso que mencionaba anteriormente comienza a ser un habito dentro de la nueva comunidad de fe la adoración verdadera a Dios tendrá su epicentro en los hogares y en la misma iglesia. La comunidad que rodea a la iglesia o las casas de los que tienen pasión por las almas, se verá beneficiada por una comunidad de fe que quiere llegar a los más alejados de Dios con alegría y sencillez de corazón. Los verdaderos adoradores adoraran al Padre hasta en las mismas calles de nuestra comunidad.
It is essential the last step in this process is to see more people reach the feet of Jesus, not just to become a number for the church. This will become a reality when the first steps of perseverance, unity, joy, simplicity of heart are fulfilled without omitting any. Some wish to skip some steps to seek better results or more numbers. If any of those steps mentioned by the book of Acts to plant church houses are omitted, it is no longer God's plan, and it begins to be a human effort from the leader, pastor or coordinator who wants to force what God can do without our help.

Es importante poder ver que el último paso es el de poder ver más personas llegar a los pies de Jesús. Esto será un hecho cuando los primeros pasos de perseverancia, unidad, alegría, sencillez de corazón sean cumplidos al pie de la letra sin omitir ninguno. Algunos desearan omitir algún paso por buscar mejores resultados. Si algunos de esos pasos mencionados por el libro de los Hechos para plantar iglesias en las casas se omite deja de ser el plan de Dios, y comienza a ser un esfuerzo humano del líder, pastor o coordinador que quiere forzar lo que Dios puede hacer sin nuestra ayuda. 
Salvation is a gift from God. The method is provided by God, so we can be transmitters and just repeat what Jesus said: "everything the Father does, the Son does the same."  We do what we have learned and seen our Lord Jesus Christ do because He learned it from our heavenly Father. Those who are far from God may come to see the excitement of the first days of the new church, but if they do not see God's method reigning in the lives of the members of that community, they will quickly leave. Therefore, we must not force anything because His Word says, "And the Lord added to the church every day those who were to be saved."
La salvación es un regalo de Dios el método entonces es provisto por Dios para que nosotros como transmisores podamos repetir lo que Jesús dijo "todo lo que el Padre hace, eso mismo lo hace el Hijo" Nosotros hacemos los que hemos aprendido y visto hacer a nuestro Señor Jesucristo porque él lo aprendió de nuestro Padre celestial. Los que están alejados de Dios talvez vendrán a ver la emoción de los primeros días de la nueva iglesia, pero sino ven el método de Dios reinando en la vida de los miembros de esa comunidad a cómo llegaron de rápido se irán de rápido. Por lo tanto, nosotros no debemos forzar nada porque como dice su Palabra "Y el Señor añadía cada día a la iglesia los que habían de ser salvos"
In Christ,
Pastor Eliecer Barrantes
Iglesia Gracia