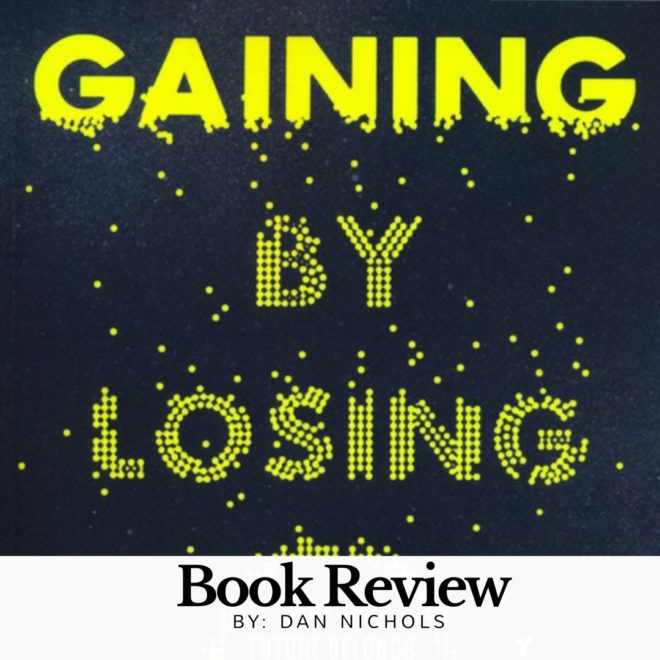 All church leaders want to be successful, but our definitions of success vary greatly depending on our personality types, strengths & weaknesses, theological perspectives, and even our denominational/network affiliations. So often we determine our success based on the 3 B's: butts, budgets, and buildings – however, Gaining By Losing offers a fresh and challenging philosophy of success.
J.D. Greear says success in the local church is measured by sending capacity, not seating capacity. The Church should be an aircraft carrier because "aircraft carriers equip planes to carry the battle elsewhere" (pg. 28). This book is more than just another mega-church pastor's "how-to" manual for church growth; it's a call to rethink ministry success altogether.
It's no secret that many American churches focus on hoarding, controlling, and competing. The metrics for success have been warped for far too long. Here's why J.D. believes that the future belongs to churches that send:
1. Increasingly, in a "post-Christian" society, unbelievers will simply not make their way into our churches, no matter how "attractive" we make them.
2. Multiplication beats addition, every time.
3. The presence of God accompanies those who send.
4. Jesus' promises of greatness in the church are always related to sending (pg. 29).
J.D. is refreshingly honest and transparent about his own church's struggles to find true success and the mistakes along the way. Chapter 2 balances candor along with humble confidence that Summit Church is imperfectly heading in the right direction after many years of trial and error. There's a lot to gain from J.D.'s story.
J.D.'s "plumb lines" are the real meat of the book; these are his essential principles for becoming the sending church that God wants. I personally love lists, so here you go (you're welcome!):
1. The Gospel is not just the diving board; it is the pool (Chapter 3).
2. Everyone is called (Chapter 4).
3. The week is as important as the weekend (Chapter 5).
4. A church is not a group of people gathered around a leader; it's a leadership factory (Chapter 6).
5. The church makes visible the invisible Christ (Chapter 7).
6. The point in everything is to make disciples (Chapter 8).
7. Every pastor is our missions pastor (Chapter 9).
8. We seek to live multicultural lives, not just host multicultural events (Chapter 10).
9. Risk is right (Chapter 11).
10. When you're sick of saying it, they've just heard it (Chapter 12).
Fair warning: reading this book might really mess with your ministry philosophy. It will definitely make you rethink your strategies, and it probably will hit you where it counts in terms of identity. Just like Dangerous Calling by Paul David Tripp hits you right between the eyes when it comes to personal, spiritual formation as a pastor – this book will do the same thing in terms of your ministry philosophy, strategy, and identity.
You'll rarely find a ministry leadership book as balanced as this one. It's biblically saturated while pragmatic in the good sense of the term. J.D. is able to navigate multiple perspectives and synthesize them with insightful takeaways. As challenging as this book is, the tone is encouraging all the way through. J.D.'s humor, experience, and straight forward mannerisms combine powerfully. Trust me – you won't be able to read this book and not talk about it with the key mentors in your life or leaders on your team. Here are some of the best quotes from the book:
"If you want to convince men to build ships, don't pass out shipbuilding manuals. Don't organize them into labor groups and hand out wood. Teach them to yearn for the vast and endless sea" (Antoine de Saint-Exupery – pg. 58).
"Believing the gospel leads to becoming like the gospel. Those who go the farthest and give the most are those who are most aware of how far Jesus went and how much he gave up to reach them" (pg. 66).
"Every believer is a fighter plane. When church members understand that, they will move from being spectators of the production to owners of the vision and ambassadors of the mission. Pastors will move from gathering audiences to empowering armies. When that happens, the gates of hell will not be able to withstand the advance of the church" (pg. 81).
"Missional or attractional? Yes" (pg. 83).
"Faithful ministries pursue both width and depth, because neither is really possible without the other. Depth in the gospel leads to width in the mission" (pg. 99).
"Missions is not a 401 class for mature saints ready for premium membership in Club Jesus. Mission is the very substance of our call to follow" (pg. 159).
"A group of 25,000 white people gathering to listen to great music and an entertaining speaker is not really a demonstration of the power of God. It happens at a Justin Bieber concert. By contrast, a group of people who come together around Christ when they have little else in common declares that God has the power to save" (pg. 176).
"'Sending' preaches more easily than it is executed…" (pg. 189).
Dan Nichols
Church Planter
www.danandjoy.com